TaylorMade P790 Irons Review
Last Updated:
What we say...
TaylorMade P790 Iron review: TaylorMade's new P790 irons are a distance iron for the better player- combining the best parts of a blade and cavity back iron by featuring a hollow body, forged face and Speedfoam
Any reasonable golfer will tell you their ultimate set of irons would combine the looks and feel of a forged blade with the playability and forgiveness of a cavity back that delivers remarkable distance combined with excellent feel.
Until recently, the concept has been a pipe dream, but thanks to the introduction of hollow-body forged iron constructions, it's all changing – and the TaylorMade P790 irons are the latest to fit in to that category.
PXG ignited the market with their 0311s, and while others have gone hollow body without being forged (Callaway Epic) TaylorMade believe that to complete their best better player iron line-up ever, the new TaylorMade P790 irons have to be at least part-forged.
WATCH our video review below
Designers have specifically targeted the look, feel and feedback of a true blade iron. But by teaming the muscleback styling with a decent sized internal cavity – they have filled the TaylorMade P790 with a new polymer called Speedfoam – meaning that you get the forgiveness and playability usually expected of a perimeter weighted iron.
This was accomplished by incorporating technologies that improve on feel, sound and consistency while delivering significant distance. The P790 features a soft, 8620 carbon steel body combined with a high-strength forged 4140 carbon steel WrapFace in a hollow body design.
Tomo Bystedt, TaylorMade's Senior Director of Irons, told us: "This is a distance iron for the better player. It combines the forgiveness and playability of a perimeter weighted design with the look and feel of a true player's iron. It has a 20% higher inertia (more forgiveness) than the P770; its level of forgiveness is similar to the cavity backed M1 iron.
"Speed foam fills the internal cavity. That allows us to make the club face thinner (1.7mm thick) which improves ball speed, it also dampens sound and improves feel. It's the most complex iron construction we've ever created. By wrapping the forged face onto the sole and combining it with our most flexible speed pocket, we've increased ball speeds especially for shots hit low in the face.
"Jason Day and Xander Schauffele both put a P790 long iron in play the first week it was available at the WGC Bridgestone, and both said feel was softer but more solid than the UDi (Ultimate Driving irons) they'd been playing."
"With P790, we created a forged iron that meets the demands of discerning players and delivers distance performance never before seen in a players iron. By combining our new SpeedFoam filler and WrapFace technology with a clean, classic design, we have effectively engineered an iron that is as beautiful as it is powerful – setting the new standard for all-around iron performance."
TaylorMade P790 irons: Cast and forged two-piece head
Making the ultimate iron means taking the best bits from both the forged and cast camps. An 8620 cast carbon steel body means the TaylorMade P790 irons have an intricate and precise internal structure to help improve forgiveness. A super thin, forged 4140 carbon steel face maximises impact flex and you get the feel expected of a forged iron.
The TaylorMade P790 iron also features an ultra-thin 1.75mm face thickness with re-engineered Inverted Cone Technology optimised for the slightly smaller face area. Whereas the company's previous ICT which had a larger, heavier profile, the new, smaller Inverted Cone allows for reduced face thickness at the edges of the face, thus increasing flexibility from heel to toe and low on the clubface, resulting in more ball speed across the entire face.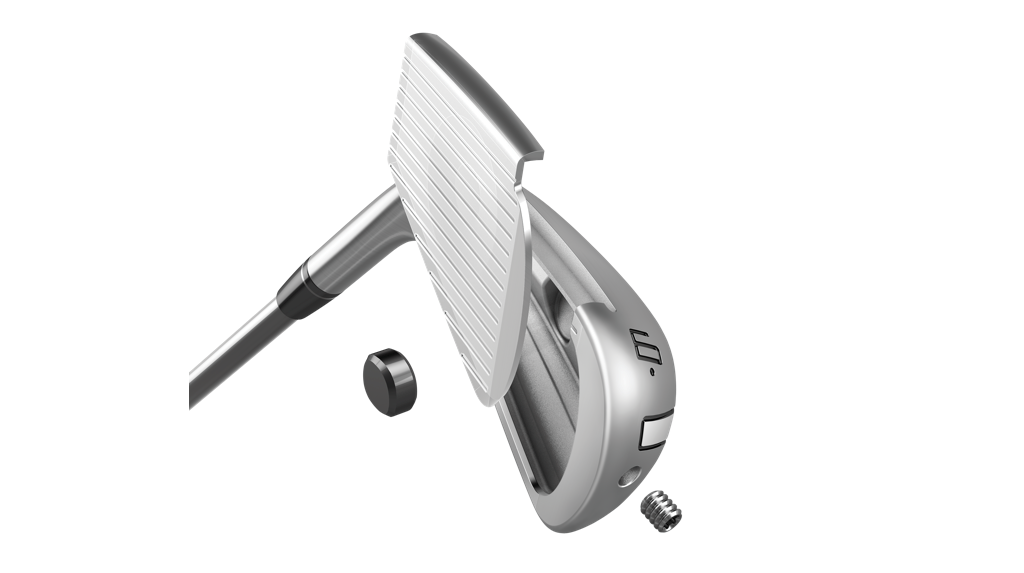 TaylorMade P790 irons: Speed foam
The TaylorMade P790 irons have a very special, secretive polymer which is injected into the internal cavity before expanding to fill the gap. TaylorMade says it helps reinforce the super-thin face, without hampering flex at impact. It also helps deliver great sound and feel. It's a key ingredient in making hollow heads sound better than ever before.
TaylorMade say: "The P790's hollow cavity uses SpeedFoam Technology, a new proprietary construction which serves a dual purpose of generating ball speed as well as the management of sound and feel. Injected into the clubhead, SpeedFoam provides the face support and damping properties that make the performance of the P790 unlike any other iron in the TaylorMade family."
Watch: How Speedfoam in TaylorMade P790 works
TaylorMade P790 irons: Tungsten weighting
The P790 name refers to the blade length (79mm long) but you need more than just a longer blade to make a noticeable improvement in forgiveness. An internal tungsten weight (ranges from 13g to 8g) towards the toe of each iron raises the MOI to similar levels as TaylorMade's current M1 iron and 20% higher than the P770s.
TaylorMade P790 irons: Floating face
TaylorMade says the P790 irons have the most complex construction of any iron they've ever made. A Speed Pocket in the sole cuts through to the internal cavity, meaning the bottom of the face is literally unsupported. The design helps improve flex and ball speed on shots hit low in the face, which according to TaylorMade research is where lots of reasonable golfers miss.
TaylorMade P790 irons: Lighter shaft
Dynamic Gold has been the most played iron shaft on tour for years, but as more and more golfers are going lighter TaylorMade is fitting the P790s with a new slimmed down Dynamic Gold 105. It's about 25g lighter than the original, with the same profile, so delivers a lighter, faster overall feel.
TaylorMade P790: Pricing and Availability
RRP: £1,049 (s) £1,299 (g). Availability: 3-PW, AW
Stock shafts: True Temper Dynamic Gold 105 (s) UST Recoil 760/780 ES (g).
Available at retail on 16th October 2017 in Europe, P790 irons will be offered in 3-PW, AW, SW, equipped with True Temper's Dynamic Gold 105 steel shafts (RRP £1,049 / €1,249 / 1,379CHF / 9,499DKK / 11,899NOK / 12,099SEK for 7 irons) or UST Mamiya's Recoil 760/780 ES SmacWrap graphite shaft with (RRP £1,299 / €1,549) Golf Pride Tour Velvet 360 grips. Numerous other custom shaft options are also available.