TaylorMade M4 Hybrid Review
Last Updated:
What we say...
The TaylorMade M4 Rescue has a low-profile body and a larger sweet spot for enhance overall playability
Details
RRP: £199
Loft: 19 degrees
Shaft: Fujikura Atmos Red 7 (S) 6 (R) 5 (A)
The new TaylorMade M4 Rescue is designed to help average golfers replace a long iron with higher, longer and more draw-biased performance. With a larger sweetspot, a split-mass pad, speed pocket and geocoustic sole, the key performance technologies in the new TaylorMade M4 combine to produce an increase in ball speed and an enhance overall playability.
Brian Bazzel, VP of Product Creations at TaylorMade, said: "Lower profile, larger footprint, low CG and now we've split the mass within the head to increase the speetspot. This is our easiest hybrid to hit, gets up easy, goes long and has a little bit more draw bias than the M3. The M2 rescue flew off the shelves this year, and the M4 is going to be no different."
More Reviews
New TaylorMade M3 Hybrid
New TaylorMade M4 Fairway
New TaylorMade M3 Fairway
New TaylorMade M4 Driver
New TaylorMade M3 Driver
"The M4 Rescue embodies everything you want in a hybrid club. With shaping designed to work through a variety of conditions and low CG for easy launch, golfers have a new "go-to" club for any situation on the course"
TaylorMade M4 Hybrid: New crown
The low-profile body of the M4 Rescue has a tiered two-tone crown with the same matte silver front and gloss black rear section that showcases the distinctive, widely recognized aesthetics TaylorMade's M series of product has become known for.
TaylorMade M4 Hybrid: Speed Pocket
The M4 Rescue features a cut-through Speed Pocket to increase launch and maximize ballspeed on shots hit below center face.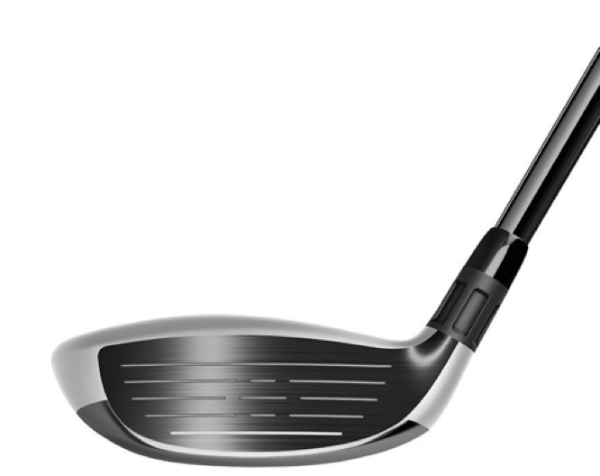 TaylorMade M4 Hybrid: Split Mass Pad
Similar to the M3 fairway, a new split-weight mass pad separates the weight at the outward extremities of the head to increase the club's forgiveness by preserving ballspeed on shots hit off-center.
TaylorMade M4 Hybrid: Geocoustic Sole Deisgn
In addition to the added forgiveness, a Geocoustic sole design and a short, fluted hosel work in tandem to optimize sound and feel at impact.
More Reviews
New TaylorMade M3 Hybrid
New TaylorMade M4 Fairway
New TaylorMade M3 Fairway
New TaylorMade M4 Driver
New TaylorMade M3 Driver
Product Information
RRP: £199
Loft: 19 degrees
Shaft:

Fujikura Atmos Red 7 (S) 6 (R) 5 (A)

New two-tone crown

Two internally split mass pads

Speed Pocket

Geocoustic Sole Design

Available February 16th
Related Equipment Reviews