Game Improvement irons: Cleveland CBX vs Ping G400
Published:
Cleveland CBX vs Ping G400 irons: One can only be bought off the shelf. The other can only be bought fitted. So which one should you buy?
Choosing the right game improvement irons for you can be a minefield. There are more golfers in the game improver category than any other, but because those players can be anything from 10 to a 25 handicap, there's also a huge array of abilities to cater for. And it's this wide audience that Cleveland reckon they've covered with their new CBX irons.
By tailoring the new model to "mainstream golfers", their engineers have designed a set that works for vast numbers of club players. By studying the typical traits and needs of average golfers – and creating an iron based on those ndings – Cleveland say that golfers can buy the CBX straight o the rack without needing to spend hours getting fitted.
You'll save money, too, compared to a fitted set. It's a new, fresh and interesting take on selling irons, so it only seemed fair to compare the CBX against one of the most regularly tted irons on the market right now, a set of Ping G400s, to see how fitted and non- fitted clubs compare.
HOW WE DID IT:
We used a pro (Ben Frost) and amateur tester (TG Equipment Ed Simon Daddow) to see how the unfitted CBX performed against the G400, which were set up for each tester. Both players hit shots on a launch monitor, we rejected major misses, and left the data until the testers had hit both products. To give a good representation of how each product performed across the board, we've averaged the numbers between both testers.
Ping G400 Irons
Details
・RRP £110 (s) £120 (g) per club
・Availability: 4-PW, GW, SW, LW
・Stock shaft: Ping AWT 2.0 (s) Ping Alta CB (g) plus five more premium options
・7-iron loft, length, offset: 30deg / 37" / 5mm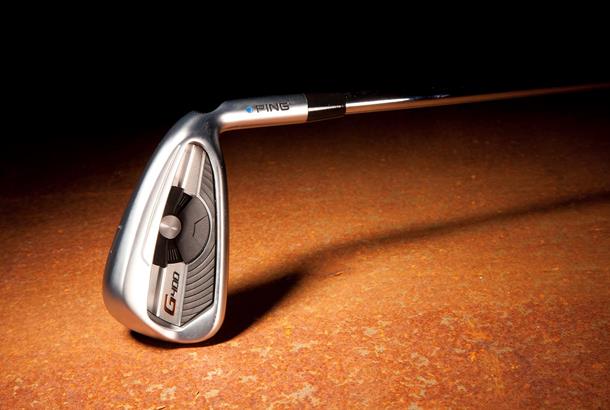 Ping are huge advocates of fitted clubs – you just need to look at their 12-colour coded tting chart to see how seriously they take it. There's no doubt that tting has huge advantages – we've seen it time and again. But if you've been fitted before and come away with standard lie angles and shaft lengths, then Cleveland might well be onto something. Compared to the CBX, the Ping has a longer blade length (meaning the centre of the face is further from the hosel) and isn't quite as compact as the CBX in the shorter irons.
Our test pro thought the G400s gave more room for error, and he reckoned their look was fractionally more friendly and con dence-inspiring, too. It's worth remembering the Ping's AMT (Ascending Mass Technology) means the shafts get lighter as they get longer, which gives a very different feel to the Clevelands (which are heavier in the long irons). Two huge pluses in our opinion are the ability to buy the Pings individually (so you only buy what you use), and five premium shaft options which come into their own for particularly picky golfers or those with above average club speeds.
Cleveland CBX Irons
Details
・RRP £570 (s) £648 (g) 5-PW
・Availability: 4-PW, GW
・Stock shaft: True Temper Dynamic Gold DST 98 (s) Miyazaki C Kua (g)
・7-iron loft, length, offset: 30deg / 37"/ 3.5mm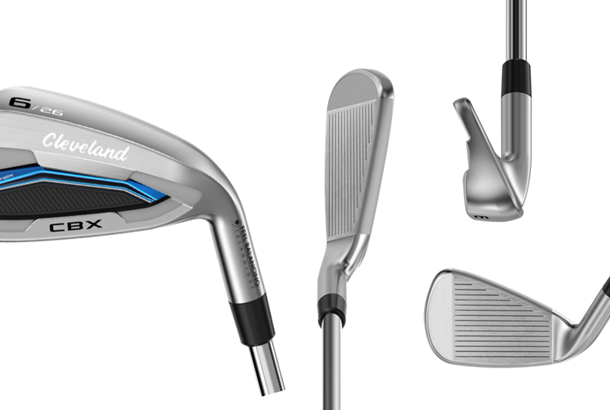 The CBX may have been designed for a wide audience of golfers to take straight from the store to the range, but don't think any stone's been left unturned when it comes to maximising performance. There's a modern cup face in the 4- to 7-irons to maximise face ex and ball speed, lower pro les (with thicker top lines) in the long irons and more compact short irons.
Each iron has tour zip grooves, laser face milling and a dual V-shape sole, all of which spill over from Cleveland's award-winning wedges. Make no bones about it, the CBX is a tech-laden iron and it's a good looking club, too.
Simon's fastest ball speeds and longest carrying shots came from hitting shots a fraction low on the face, supporting the theory that faces need to be thinner and faster below centre as that's where the majority of club golfers impact shots. The Dynamic Gold DST 98 shaft is an interesting choice.
It's lighter and more explosive than the traditional Dynamic Gold iron shafts they are measured against, and it's specifically designed (thanks to a high balance point, closer to the grip) to increase club speed and launch, to help golfers max carry. The CBX is a fantastic package, and the data spells out just how closely it's matched to the G400 for both testers.
OVERALL VERDICT:
We certainly weren't expecting to see both clubs so evenly matched, but then both are packed to the perimeter with game improving tech. Cleveland's idea is an interesting one and by giving up virtually nothing in terms of ball speed or carry distance for either tester, it has to beg the question if a set is specifically optimised for "the average golfer" how much more do many of us need?
We believe that if you've been fitted a couple of times and ended up with standard length and lie irons, you could probably pick the CBXs off the rack and play equally well with them. If, though, you know your physique, swing and game are anywhere close to the wrong side of standard we'd say a proper fitting is still an excellent idea.