What you missed: Tommy's new irons, Kuchar's win amid caddie controversy, Hull's victory and Nike's new 'Grass' trainers
Published:
10 Things you missed: Tommy's new irons, Kuchar's win amid caddie controversy, Hull back to winning ways, Nike's new 'Grass' trainers and Colsaerts' first hole in one
---

Tommy Fleetwood spotted testing new TaylorMade clubs in Abu Dhabi
Tommy Fleetwood has been spotted testing out some new TaylorMade stamped "P-7TW" irons in Abu Dhabi.
It's not a big surprise that Tommy is testing out new irons. He played last season with his very last set of Nike VR Pro Blades, and the only ones out there left are in the hands of Paul Casey (stamped PC). For Fleetwood, it makes sense to find a manufacturer who could fix his clubs, and get new ones, without a struggle.
"Honestly, changing might make life easier if something went wrong with a set from another manufacturer," Fleetwood had previously said. "I could get them fixed and it wouldn't be a struggle."
But he could well become the first player to use the TaylorMade stamped "P-7TW"irons, which some have suggested were originally created for Tiger Woods, and were spotted in Woods' bag during a recent brand shoot. At the end of 2018, Woods was using a version named 'TW-Phase 1', and it has been speculated these new clubs resemble the P-730 irons.

Matt Kuchar wins for second time in four starts at Sony Open
Matt Kuchar had to wait over four years to win his eighth PGA Tour victory, but his ninth came just three starts later with a four-shot winning total of 258 at 22-under-par. It's something he could barely believe.
"I'm tickled, thrilled to have won two events this early in the year," Kuchar said. "To have won two out of three starts on the PGA TOUR is mind boggling to me."
The 40-year-old American recovered from a poor start that included three bogeys in his opening five holes to go from a two shot lead to one behind Andrew Putnam.
"It was not the start I wanted by any means, but I knew I was playing good golf. I was pretty disappointed to give up a few shots, particularly the three-putt on 4, and with the wedge in my hands making bogey on 5. Thought, Man, that was just not at all the start I was looking for.
"Knew I was playing good golf; knew if I stayed the course, continued just plotting along and not letting that get the best of me, that some good stuff was going to happen."
On the ninth hole the pair traded birdies as Putnam retained his advantage at the turn, but Kuchar saw that birdie as a springboard heading in to his back nine. He added birdies on the 10th, 12th, 15th, 16th and 18th holes for a four shot victory, and for the first time in his career, he was able to enjoy the walk down 18, before tapping in for birdie and the title.
"It was really special. That was my first time really getting to enjoy the stroll up 18. I think most of my wins have come the 18th had to execute, had to par, birdie, whatever it may be on 18. Still, the tournament was in limbo.
"To be able to know the tournament was wrapped up, enjoy that walk, it was special. Can't tell you how much I think of Waialae Golf Club. Fantastic club, fantastic golf courses. I've always enjoyed and had so much respect for this place."
Matt Kuchar denies paying local Mayakoba caddie just $3000
Matt Kuchar made headlines for his win at the Sony Open, but his latest victory was clouded in controversy after a former PGA Tour pro called him out on twitter for paying his local caddie 'El Tucan' just $3000 of his $1.296million Mayakoba winnings.


Kuchar denied the claims when asked, stating to Golf Channel 'That's not a story'. "(What I paid him), it wasn't 10 percent. It wasn't $3,000. It's not a story." But once again Gillis has clapped back to Kuchar, stating he has someone 'speaking directly to the caddy' and he received his agreed $3,000 but nothing more, and that is goal is to get the man paid.


This story doesn't seem to be going away any time soon…
Backstopping: Commentator calls backstopping incident 'crazy'
Because one Matt Kuchar drama wasn't enough for one week, he and his playing partner were also heavily criticised by Golf Channel commentator Frank Nabilo for using Andrew Putnam's golf ball as a 'backstop' on Sunday.
Kuchar was in the greenside bunker on the ninth hole, and Putnam - whose ball was close to the hole, didn't put a marker down. It serves as a 'backstop' for Kuchar, and would have given him an advantage if his ball were to hit it. It isn't against the rules, but it's a subject that has been talked and criticsed a lot over the past year, and players have very constrasting views over the morality of it.
"That's crazy. It really is," said Nobilo on-air.
"You ask any other generation and it's something that we have chatted about over the years: to provide a backstop, especially at this key moment. He had the option to run up there and tap it in, do whatever you want. Remember the rules changed, you are allowed to putt with the flag in — do not leave it there."
"One of these days, it's going to cost someone. Can you image if Matt's bunker shot is going fast and actually hits the ball and goes in?"
Charley Hull wins Ladies European Tour season opener in Abu Dhabi
Charley Hull held off a challenge from Marianna Skarpnord to win her first Ladies European Tour title in almost five years at the Fatima Bint Mubarak Ladies Open. Hull carded rounds of 67, 72 and 69 at Saadiyat Beach Golf Club in Abu Dhabi to complete the wire to wire victory of an eight-under-par total of 208 and claim her third professional title.
Hull was challenged by Skarpnord the whole way, setting the clubhouse lead at 7-under-par thanks to back-to-back birdies on the 15th and 16th holes. It looked like the pair may be headed to a play-off when Hull, who had a one shot lead, found the bunker with her approach on the last, but she got up and down from the sand in superb fashion to secure victory.
"I've practised really, really hard over the winter and it feels great to win back on the LET, especially since I had my first pro win in Morocco five years ago," said Hull.
"Hopefully I can get a few more wins this year and I've been practising really hard so it shows that my hard work is paying off. "I'm very happy with my round. I left a lot of putts out there today, but it's hard to putt when it's windy like this. It was windy all three days really and especially on the second day.



"Today the wind got up in the end and it was a tricky finish, especially the 18th hole, because you can't hit more than a five-iron off that tee to be short of the bunkers, or you go with the driver, and go over it all, and that's a risky shot.
"With that back-right pin it was a good finish and I hit a five-iron, over the green, had a 35-yard bunker shot and I stiffed it. It was quite tricky and I made the putt, so it feels really good to be back in the winners' circle again."
Lucy Li extended invite to Augusta National Women's Amateur... but can she play?
Remember last week when we covered amateur Lucy Li, who is being investigated by the USGA for violating her amateur status after appearing in a 15-second video advert for Apple watches?
Well, the 16 year old has just been extended an invite to play in the inaugural Augusta National Women's Amateur. She took to social media to share the news, thanking Augusta National for making her 'dreams come true'. The only problem? She might not be able to play, pending the result of the USGA's investigation.
Under the rules, amateurs are prohibited from using their golf skill or reputation to promote or advertise themselves, or allow a third party to use them for advertising, paid or otherwise. And while it was confirmed by Li's mother to Golf Channel that she was not paid for the advert, it could still violate a rule if the USGA deem her to have received a personal benefit in terms of self-promotion or other means.
For Li, who made headlines when she became the youngest player to have ever qualified for a US Women's Open aged 11, the worst case scenario means she will have forfeited her amateur status.
Nicolas Colsaerts gets first ever hole in one… on a par four
You'd be forgiven for thinking almost every professional golfer has had at least one hole in one. Eduardo Molinari was an exception to that thought until July last year, but it turns out he wasn't the only pro not to have managed one in his life.
After 30 years he finally managed it, on a par four! "1st ever hole in one today after playing golf for 30 years...and of course what else then on a par 4!"
Nike's set to debut new 'grass' Air Max trainers
We'll let you make your mind up about these, but according to Golf.com Nike are set to release new Air Max 1 Golf 'Grass' trainers, which have been inspired by golf courses.
What Nike say: "Dubbed the Nike Air Max 1 Golf "Grass," this audacious style features a deep green turf-like upper, with green laces resembling the fairway and rough parts of the course. Peeking through is an embroidered Swoosh logo on the lateral and medial sides, while Nike Air branding on the heel is absent for this release. Below sits a Zoom Air midsole and a gum rubber outsole with golf-ready traction.
"An exact release date for the Nike Air Max 1 Golf "Grass" has yet to be announced by Nike, but fans can expect this pair to launch soon with a retail price of $140."
It's unclear as yet whether these will be available in the UK, but to be fair, they could double as an emergency range matt?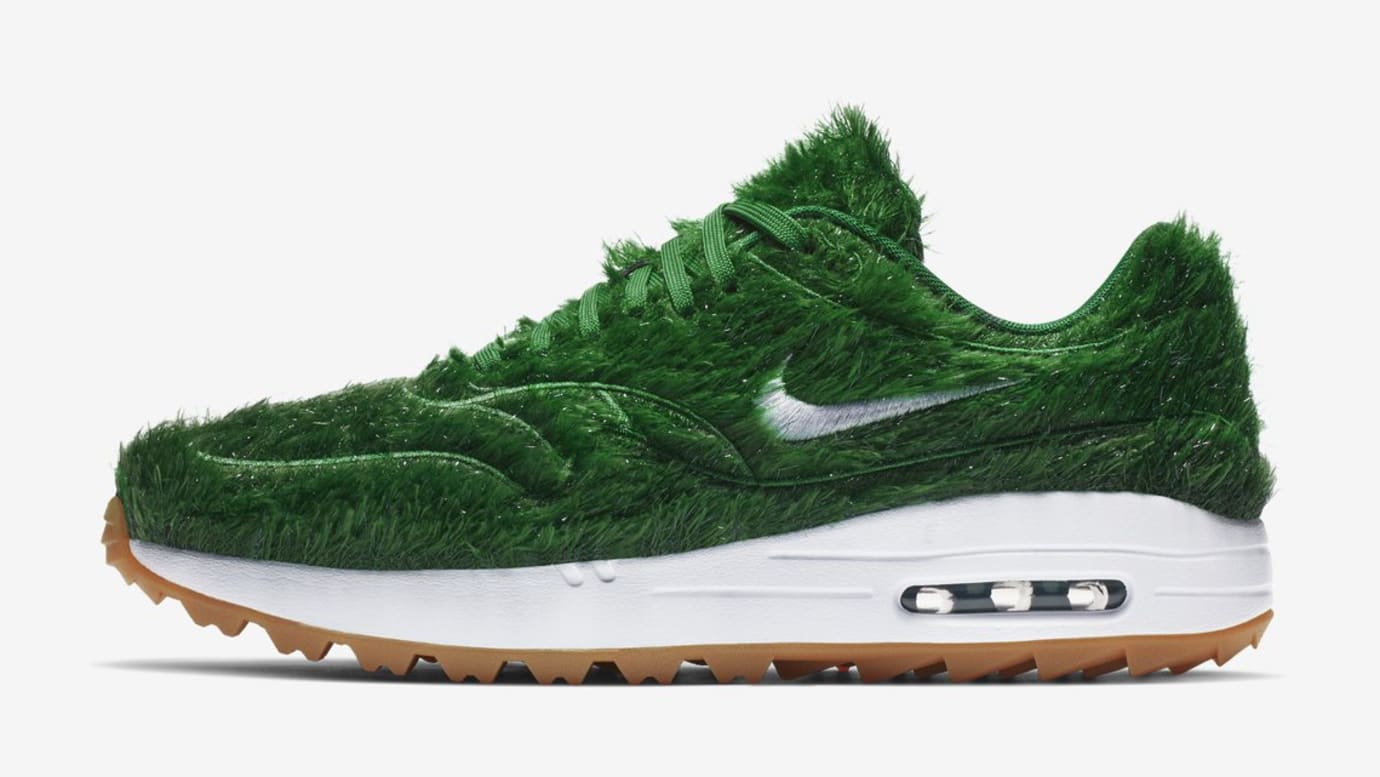 Padraig Harrington named European Ryder Cup Captain for the 2020 contest at Whistling Straits, Wisconsin from the 25th to 27th September.
Padraig Harrington said he was 'thrilled' to be officially announced as the next Captain of the 2020 European Ryder Cup team, but insisted it was not a decision he took lightly.
"Obviously I'm thrilled to be named the Ryder Cup Captain for 2020," Harrington said at the press conference announcing the Captaincy on Tuesday.
"It's not something I went in to lightly. I suppose you could look at this as being a natural progression, you move on from player to Vice Captain to Captain, but it's not something I take on without a certain amount of trepidation.
"I really want to be a help, I want to hopefully lead the Ryder Cup and the European Tour in a better place after two years, but I know we want continuity in Europe, we want to keep moving on.
"We're going to a new venue, it's an away match, we're going to have on average 3 more rookies coming in to the team, and I have to be a part of that team and ensure that I find an edge to help the team perform to the best of their abilities to get the most out of them and hopefully get a win.
"Having been a player, having won three majors I've done a lot in my own personal career but I know taking on the Ryder Cup captaincy is a different thing, its a different level, and it's something I have to be really conscious that I have to find that edge and add to it and that's something I don't take lightly. It's going to take a great deal of my time over the next 18 months figuring out how can I make our team play to the best of their ability."
Ian Poulter went 'beyond' to make-up for PGA Tour violation
Having fallen short of the required quota of 25 tournaments set by the PGA Tour last season, Ian Poulter was required to go to a tournament he hadn't played in four years. He violated that rule, but as Doug Ferguson from the Associated Press reports, he made up for it in more ways than one.
Poulter knew early on that he wasn't going to make the required number of tournaments. His first tournament victory since 2012 came at the Houston Open, which made him suddenly eligible for the Masters and put him in the mix for the Ryder Cup, leading to a change in schedule for the Englishman. So after the Masters, he sought out Tour officials to ask them how he could fulfil the obligation.
"I told them, 'How do you want to go about it?' I'm going to be the first person, and it's going to be sensitive," Poulter said. "I want to give something back so I can fulfil an obligation."
Poulter told the Tour he would add two tournaments he hadn't played in four years to his schedule this season, which is why he appeared at the winners-only Sentry Tournament of Champions last week and is also teeing up at the Sony Open.
"That would tick two boxes," he said.
According to the report, Poulter then offered a day with tournament guests. Given that The Wyndham Championship was the one he would have played in normal circumstances if not for the Ryder Cup, he asked them to select who they wanted to come to Flordia. He then treated those eight tournament guests for a round of golf at his home club in Florida, lunch and a tour of the house where he keeps his Ferraris and Ryder Cup memorabilia.
"I would say it was beyond what we would consider an acceptable make-good," said Andy Pazder, the tour's chief officer of tournaments and competitions. "To do what he did ... was just terrific."