Callaway Rogue Driver Review
Last Updated:
What we say...
The new Callaway Rogue Driver is said to produce faster ball speeds than the Callaway Epic Driver
Callaway's newest Rogue Driver combines the power of Jailbreak technology and X-Face VFT technology to promote high ball speed and long distance.
Callaway claim to have broken away from their own metalwood design protocal to once again reinvent the driver, inspired by a desire to dramatically change driver performance by changing the driver dynamics.
They took the technologies that made the Callaway GBB Epic and say that they have supercharged those to create the Callaway Rogue Driver, a driver that combines all they know about boosting ball speed with a new, MOI-enhancing shape that they say delivers exceptional forgiveness.
・Callaway introduce new Rogue Drivers and Fairway Woods
・Callaway Rogue Sub Zero Driver
・Callaway Rogue Draw Driver
・Callaway Rogue Fairway Wood
・Callaway Rogue Sub Zero Fairway Wood
Callaway say their new Rogue driver produces 1.5- 2mph faster ball speeds than last year's Epic, achieved by enhancing their revolutionary Jailbreak Technology with new, hourglass-shaped titanium bars which are 25% lighter to stiffen the crown and sole.
As a result of that the new stiffer body, the Callaway Rogue driver has a thinner face and better energy-transfer to the ball thanks to their new X-Face VFT architecture which thickens and thins strategic areas of the face to promote higher ball speeds on off-centre impacts and consistently high ball speed and long overall distance.
By removing the sliding weight track at the back of the head, the Callaway Rogue driver also has a 15g weight saving over Epic. Why is that important? Repositioning that weight delivers more forgiveness and a 16% tighter shot dispersion. Along with an improved aero package.
Callaway Rogue Driver: Key Features
Jailbreak Effect for Enhanced Ball Speed
Combined power of Jailbreak technology and X-Face VFT technology to promote high ball speed and long distance in the Callaway Rogue Driver
Boeing Aero Package
New boundary-layer geometry increases the Speed Step's efficiency for better airflow and more head speed.

Triaxial Carbon Crown for Increased MOI
The largest ever carbon composite surface area in a Callaway driver. Its light-and-strong composition saves weight that's redistributed to increase MOI.
Premium Shaft Selection at Multiple Weights
Choose from 40g, 50g and 60g weight classes — Aldila Quaranta, Aldila Synergy, Project X Even Flow.
Q&A: Callaway's Senior Vice President of R&D Alan Hocknell explains the tech in the Rogue drivers below...
Callaway Rogue Driver: Carbon composite
At Callaway we've pioneered carbon bre in drivers. The tech's now so good the Rogue's crown is 63% lighter than an equivalent titanium crown. All that weight saving is redistributed to raise MOI and protect ball speed and distance
Callaway Rogue Driver: Rogue is bigger
Both Rogue and Epic are 460cc drivers, but the new Callaway Rogue Driver is stretched from face to back and slightly from toe to heel. To get this look in a conforming driver we used a atter crown compared to the Epic.
Callaway Rogue Driver: Hourglass-shaped Jailbreak bars
Since Epic we've run an exhaustive amount of experiments on Jailbreak (not only on vertical rods, either) and looked specifically at how the tech performs with our new X-Face and Variable Face Thickness. New hourglass shaped rods give a giant leap from Epic to Rogue.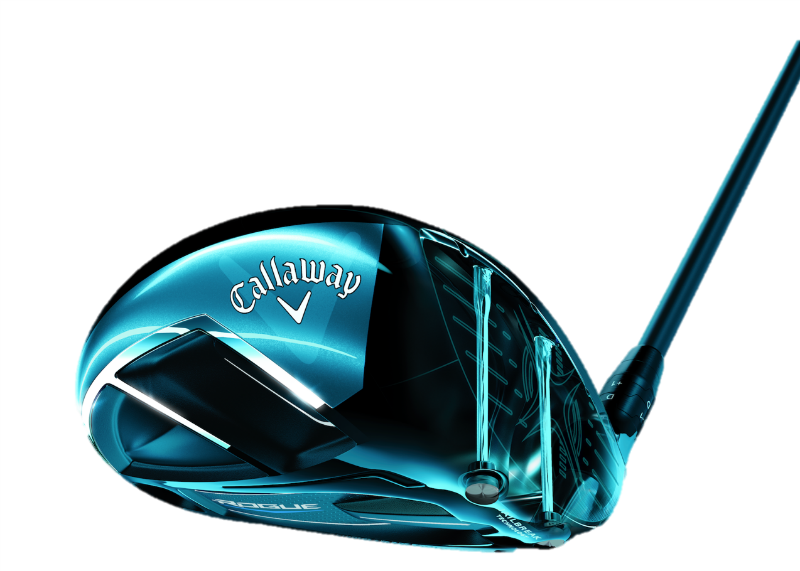 Callaway Rogue Driver: New aerodynamics
We knew we wanted Rogue to be larger, but that amplifies drag issues in the downswing. By working with Boeing we better understood the transitions from face to driver crown. These have a softer, more generous radius, so air effectively stays closer to the driver's surfaces for longer, reducing drag.
Callaway Rogue Driver: Shaft choice
In recent times we've gone from offering a single stock shaft option to sometimes 20. It's led to confusion, so for Rogue the offering is more manageable (with a premium offering in key weight ranges) and easier to understand.
RRP £469
Available Lofts: 9°, 10.5° and 13.5° HT. Left hand options available in 9°, 10.5° and in 13.5° HT
Adjustability: OptiFit Hosel Tech Specs: 460cc, 45.5" shaft length
Premium Shaft Selection at Multiple Weights
Triaxial Carbon Crown for Increased MOI
Boeing Aero Package
Jailbreak Effect for Enhanced Ball Speed
Available 9th February