Today's Golfer Magazine
EQUIPMENT ISSUE! Back for it's third year, the latest issue features Top Gear, our biggest ever equipment test!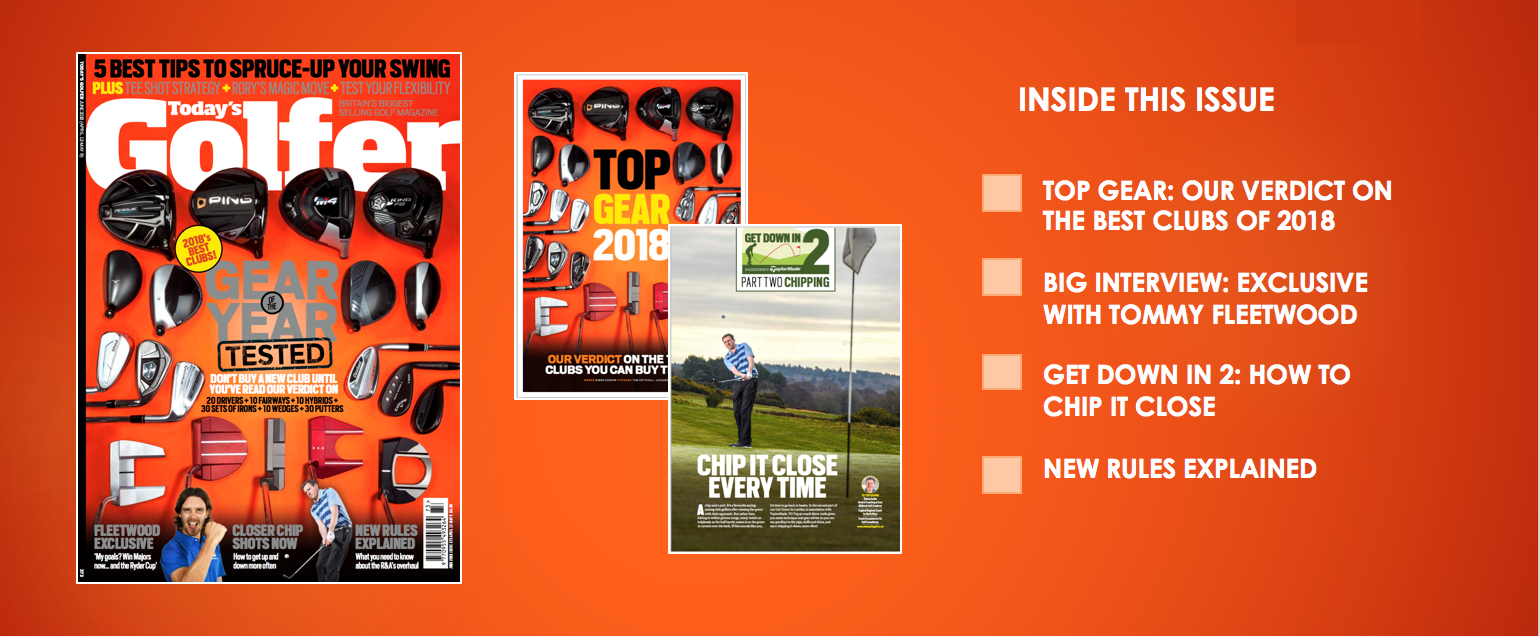 Note from the editor: When I meet golfers and they hear I work for TG, one of the most frequent questioins (apart from "Have you ever met Tiger Woods?" and "Have you played Augusta National") is: '"What's the best driver/putter/hybrid/fairway wood?"
We know golfers love their gear, and that's why we've dedicated a fair chunk of this issue to our third annual Top Gear test.
If this is the first time you've seen Top Gear, it's the biggest golf equipment trial undertaken in the UK. We started with almost 160 golf clubs back in Novemeber, with four testers and one goal - to whittle those 16-0 down to our top 10 favourites in 11 categories.
If you've seen Top Gear beofre, you'll know how seriosuly we take it. We don't make the decisions about what makes the Top 10s lightly. There's a lot of debate, hundreds of pages of data and a bit of arguing.
Some will say it's more about the Indian, not the arrow. We agree, to a certain extent. We know there ARE products that will help hit it further (just look at ball speed stats of carbon-crowned drivers compared to titanium ones); hit it straighter (see our iron forgiveness ratings); pitch it closer (cavity-back wedge, anyone?); and gain confidence on the green (if you can't find your ideal putter among the 30 we've recommended, it's time to take up bowls.) Whether you're seriously looking at new clubs, or just want to know how the latest kit performs, I hope you find Top Gear useful.
What else is in the issue?
➤ BIG INTERVIEW: In this exclusive interview, we speak to Tommy Fleetwood about focusing on majors in 2018. PLUS, learn how your swing compares to the European No.1
➤ TG COLUMNISTS: Andrew Cotter and Nick Dougherty talk about anxiety experienced in golf; while Cotter focuses on the dread of his game collapsing while he plays in Pro-Ams, Dougherty brings to light the traumatic side for a professional when it's not going well, and still having to face the media.
➤ GET YOUR GAME IN SHAPE FOR SPRING: TG Top 50 coach Simon Payne is here to help you get your new season off to the best possible start using smart versions of golf's five most enduring drills.
➤ GET DOWN IN 2: Our second installment of our Get Down In 2 Series (in association with TaylorMade) is all about focusing on your chipping game.
➤ RULES OF GOLF: Coming in to effect in 2019, how will the new rules of golf affect you?
➤ GET DOWN IN 2: Learn from