Spieth, Kisner and Schauffele share 54-hole lead; McIlroy, Tiger among players chasing
Published:
Jordan Spieth, Kevin Kisner and Xander Schauffele share the 54-hole lead as benign conditions yielded low scores during the third round at Carnoustie
Plenty of low scores and calm conditions for much of third round made for a packed leaderboard come the end of play on Saturday, with 12 players within four shots of the lead.
Defending Champion Jordan Spieth made the biggest move of the three players and will look to become the first player to successfully defend the Open Championship since Padraig Harrington after a third round 65.
➤ The Open: Leaderboard
➤ The Open: 4th Round Tee Times
➤ WATCH: Spieth drives first, holes eagle putt
➤ The key stats and stories from day three
➤ Tiger Woods after 66: 'I have a chance'
Spieth, who famously staged an impressive comeback over the final five holes at Royal Birkdale to take home the Claret Jug last year, got off to the best possible start after driving the 380 yard par-four 1st hole and holing the putt for eagle.
The World No. 6 began the day three shots behind leads Zach Johnson and Kevin Kisner, but quickly moved in to a share of the lead after adding a birdie on the fourth to move to six-under par.
Spieth, who hasn't won on Tour since The Open last year, added three further birdies on the back nine to set the clubhouse target on nine-under, and said he feel's his game is in good shape but that he isn't getting ahead of himself as a result of the bunched up leaderboard.
"I've got an opportunity to make it a very memorable one with a round, but it's not necessary for me to prove anything for any reason," Spieth said. "I feel like my game's in good shape. It's progressed nicely.

"It's ideal for Carnoustie to have a bunched leaderboard and 25-mile-an-hour winds on Sunday because it means that someone could post a score from six hours before and potentially win the golf tournament tomorrow. You're in a scenario almost like the U.S. Open this year at Shinnecock, like that Saturday at the U.S. Open-type scenario tomorrow.

"So I'm not ahead of myself at all. I recognize that this is -- I just wanted to give myself a chance after the first round, and I've done well over the two days."
Xander Schauffele, the 24-year-old American who was the PGA Tour rookie of the year in 2017, looked at ease alongside playing partner Rory McIlroy as he carded six birdies and two bogeys for a four-under 67.
A birdie on the final hole of the day secured Schauffele's place atop the leaderboard with Spieth and Kisner, who were two of 10 players to go without dropping a shot on Saturday – a stark contrast to the first two days, where only Tommy Fleetwood managed a round without a blemish.
Kisner had a steady round with two birdies in his first six holes and a run of seven pars before a final gain at the par-five 14th to stay in the number one spot for the third day running.
Kevin Chappell remained under the radar for much of his four-under-par round, but he's also in with a chance to win his first ever major – lying just two shots behind the leading group.
One shot behind him is Francesco Molinari, who continued his impressive recent run of form (two wins and two runner-up finishes in his last five starts) with his lowest ever round in an major championship - a bogey-free six-under 65.
Tommy Fleetwood and Rory McIlroy also remain in the hunt at five-under with Tiger Woods, despite both failing to capatilise on five-birdies a piece as they stumbled over a number of holes to end up with a 71 and 70 respectively.
It was a disappointing day for Rickie Fowler, who got off to a promising start with two birdies in his first four holes but then made a triple-bogey eight on the sixth and followed it with a bogey on the eighth. He eventually signed for a two-over 73 as he dropped back to one-under. So too for Brooks Koepka, who dropped back to three-over, and overnight leader Zach Johnson, who struggled to a one-over 72.
Tiger Woods a few shots behind but still in contention
Tiger Woods leads the PGA Tour in third round scoring average, and he certainly made sure that stat continued as he fired a five-under 66 at Carnoustie on Saturday.
Woods even briefly held a share of the lead after making six birdies in his first 14 holes, and despite a costly bogey on the 16th hole he still remains in with a chance to win his 15th major title if he goes low again on Sunday.
He could have been a shot further away if not for a lucky bounce on the 18th hole which kept him out of the Barry Burn, leaving him to lay up and make an unlikely up and down to finish his round at five-under-par.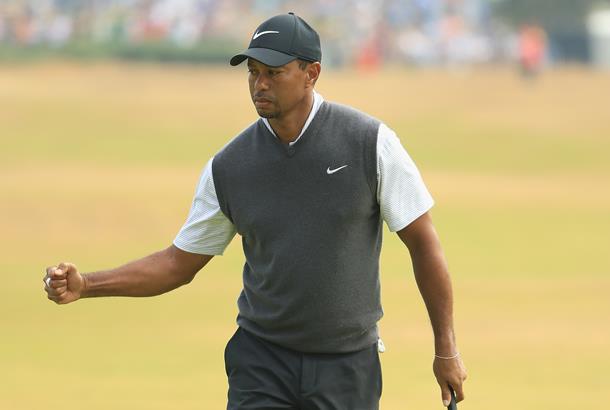 Spieth, Kisner and Schauffele were among the players to pull clear of Woods throughout the afternoon to reach nine-under, but a round of 66 was enough to keep his name on the first page of the leaderboard and convince him that he can end a 10-year Major drought.
"I'm right there. I've got a chance at this, which is great," Tiger said
"I've shown that I've been there close enough with a chance to win this year. Given what happened last few years, I didn't know if that would ever happen again, but here I am with a chance coming Sunday in a major championship. It's going to be fun."
"It would be nice if there weren't a lot of guys between myself and the lead, but not the way this golf course was going to set up. We knew there were going to be 10, 12 guys with a chance to win on Sunday, and it's turning out to be that.

"I didn't want to be too far back if the guys got to 10 today. 5 is certainly doable, and especially if we get the forecast tomorrow."
Justin Rose cards low-round of the day
Justin Rose recorded the lowest round of the day, a seven under 64, to equal the lowest round ever scored at Carnoustie in The Open and move his way back in to red numbers.
The highest ranked player in the field needed a final hole birdie on Friday to even book his spot in the field at the weekend, and made sure he took advantage of the calm conditions with a bogey-free round that moved him from three-over to four-under for the tournament.
"I think the birdie on 18 last night freed me up, and I'm just very happy to be out on this golf course and not down the road somewhere else this morning," Rose said. "So that might have been part of the shift in mind-set today. Obviously, I had nothing to lose from that point of view."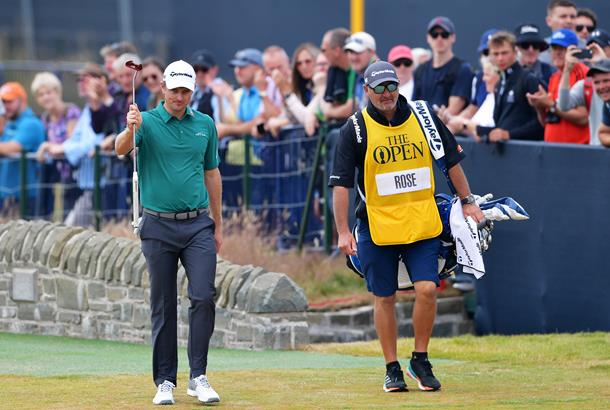 With fairly mild temperatures and winds around 5mph, Rose produced just the second bogey-free round of the tournament with seven birdies to get to within two shots of the leaders.
"I felt like it was a beautiful morning to play golf," Rose said. "I felt like it was an opportunity to score well out there.
"The greens were somewhat receptive, obviously, and the pins weren't as tough as maybe the first couple of days. I felt like it was a typical setup for a moving day today. So it was nice to make that move."
He may be just a few shots too many behind the leaders as he enters the final round, but he shows up in the same form as Saturday, they certainly will have a chance.